Main tangle network seems to be down according to the Twitter post . Let's see what the investication reveals.

The end results 30th December:
You can read the full explanation about the tangle incident in the Iota Blog here.
---
If someone stumble to this page, other than useless doorbell abusers.
---
You should visit the opposite side of the point of view more often, here's a good spot to start with Max Keiser.
---
The successor of the OMD E-M5 series camera got released last week. That's not a reason not to take a closer look at it. Dpreview TV's Chris and Jordan from the Canadian camerastore have made a nice review video of the new E-M5 Mark III.

Personally I think one and only real improvement here is the phase detection system. That's kind of a downer when you consider Olympus corp. have usually always given some new technology to the field of photography when they have done a new OMD line release in the past.
---
First is was Theresa May, now its the turn of Boris "Mad" Johnson to take the turn in this Never Ending Story of the Brexit. Really there's only one thing I'm worried and that's the price of post Brexit single malt whisky imports.
Oh, the "Final" delayed Brexit date is now 31 October 2019
Go and visit the special EU Brexit site here.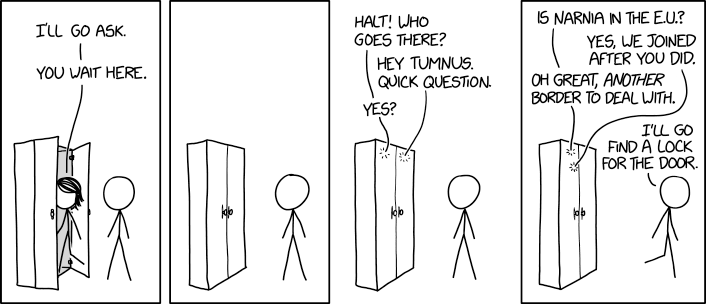 ---
Canadian company is one step closer to archieve a real life invisibility technology. They also claim that their invention also hides infrared, ultraviolet and thermal signals beside bending visible light.
Watch the captioned video here.
---
Is now available at seriously wondorous sale price. There all ready have been first bid which was declined, so don't think it's a good think to wait any longer. You wouldn't want to miss this?
Call our broker and she will arrange you a private showing, more info by clicking the photo.
---
The Fiat reserve currency we call the dollar seems to be failing hard.
Even Germany have started to buy gold after years of selling spree.

So could there be any better time to keep up with the crypto news?

The Opera browser announced that they will be adding Tron support to their browser making IRL usage even easier.
TBCASoft, IBM and SoftBank have announced a mobile payment system using the blockchain technology.
Old timers Visa and Mastercard are debuting a new buy button to make online payments easier.
---
Published the Personal quotes section finally, enough beer in the system to do some boring web stuff manually.
---
Hodl Hodl a Person2Person bitcoin exchange would like you to join and spread the opensourced exchange family. The Coindesk article descripes why you should do so if you're interested in the first place to do so.
---
Is now availabe from Google Play store, more information from Vivaldi home page. Probably not a bad idea to support alternative browsers? So that one player doesn't rise to a dominant position like you know... Chrome browser.
---
If you are interested about the Hedera project, they now have opened the testnet for public. More info and how to do this can be found here.
---
Because in my opinion there's no better open source project out there. Your project can literally save shit load of money in software licenses by using this amazing piece of open source software. Also what so often is left without a mention is that Blender also does Video Sequence Editing, not the best solution on this appartment but probably the only flaw in this software. Still the best free VSE I have found for tiny video editing needs.

Watch the video , get excited, download the software, create something and support the project!
---
ST Microelectrics solution called X-Cube-IOTA1, which is a software package for STM32Cube.
This makes "micro-payments possible without the need of a trusted intermediary of any kind."
STM32Cube software is technology built for STM32 microcontroller family.
Read more from blog.iota.org
---
Helga Schmid tweeted 28th of June "INSTEX now operational, first transactions being processed and more EU Members States to join.". Instex stands for "Instrument in Support of Trade Exchanges" and you can read more about it here.

On Youtube you can watch about Mike Maloneys point of view about this and the trade war situtation between US and China.

But for me it seems like the dollar standard is really starting to crumble when US allies are creating alternative for SWIFT system. But as always please form your own opinion.
---
Blog IOTA released a annoucement today telling details about the partnership with Primority. Main focus of this project is enchange foodsafety with the use of MAM protocol and IOTA tangle.
Main message here being that real world adoption of this and other crypto projects are starting to increase in numbers, is it good idea to miss the train to the future?
---
Cryptoslate and Rootdaemon writes about Google plans to make adblocking harder or totally impossible on the chrome codebase. This really doesn't blend well with netneutrality, privacy or users right to choose HOW they would like to use their software.
I personally see this just a continuation to a never-ending chain of decisions from the dominating advertising parties to mitigate users right to choose anything. Apple kind of started this all by making closed up hardware a major thing by pointing out how bad MSN Windows experience was back when ipod took over the mp3 player markets.
Gladly there are those organisation that won't swallow all the never-ending Scheisse from the corporate world. Brave and Opera browser developers have already given a comment that they will probably not support Google's shove it up in to your arse policy considering the planned codebase changes in Chromium.i
Fight the power and go educate your self by reading the news how corporates are constantly trying to screw over the customers.
---
Big news from the world stage if the written story about Russia and China starting to use national currencies between the countries as a trade payment option. According to the RT.com the cooperation is a done deal and I personally see this just another round in the downward spiral of the US economy and a dollar as a reserve currency.
---
Continuation to yesterdays Coordice announcement and a short story behind the probably revolutionary IOTA project, enjoy the writing from the Hello IOTA. The Internet Of Devices network not gonna get smaller anytime soon.
---
For Yield curve to reverse, 1 month rate being higher than 10 year counterpart. Which usually mean that regression is on its way to the markets. But this time the 1 month bonds have overtaken the 15 year bonds which, kind of is a major bad sign. So be sure to have some real money, land, house and metals when the regression reaches the six o clock news.
---
IOTA foundation has opened a web page for information considering the roadmap for Coordinator removal, which is the final goal for totally decentralized IOTA tangle networking (directed acyclic graph DAG). All I can say be prepared.
---
If the World Icehockey Championship final match between Finland and Canada does not tickle your fun box.
Check out how the ongoing European Parliament election results turnout and how it will shape the way
EU member countries will choose the path for the future and relation to the rest of the world.
---
Update to the Brave Rewards situtation, don't hold your horses the support seems to be couple of months behind the real time. How could I know is this because the overhelming success of the project or tactical progress stalling?

"Hello there! Thank you for writing back. We will review the information you have provided and will have a resolution for your case as soon as possible. Please allow additional time for account reviews as the team is very backed up at this time."

So meanwhile they resolve this, you should gift some other sites with the Brave Browser rewards system.
---
This is a full blown speculation but according to the column released by ambcrypto.com Amazon has filed a crypto related patent. According to the writing the patent descripes a Prove Of Work system that uses a Merkel Trees. Not so long ago I rid this article from Iota News that described how Merkel Trees work.
So maybe there's a plausible change that Iota is also related to the Amazon patent somehow?

Just remember that this is just a speculation on my part and I have NO proof that My speculation have any consensus in reality.
---
While cryptomarket seems to continue the boom of 2019. The Opera browser announced yesterday that it will add Tron to its crypto wallet. They also mentioned that "Opera plans to add support for multiple blockchains within the next 12 months." this means that more ERC-20 crypto tokens will be get supported in the semi near future.
---
---
Nordea announced a press release yeasterday where it told that it's opening a new IBM blockchain based trading platform called a we.trade. While press release can be rid here.
---
The project claims to give distributed web privacy for file sharing and more. As always you should not trust sensitive data to a some random webpage. But heck why not try it out because the idea is more than a worthy in the big media company ruled internet.
---
ZDNET summarizes the new Linux kernel 5.1 release main points. Linus describes this relase as a very normal release. If interested go and read the article. Also if not already you should find some interesting live image linux distro and give it a spin.
---
And you'll be rewarded by the state. Criticize and show signs of individual ability to think and you'll be punished it seem according to the report from France24 that uncovers China's social credit system in a short video report. Think this kind of behaviour won't reach the Europe, well you just wait a couple of years or decades and we will follow your newborn global market leaders from the east.
---
Just a reminder that Global IOTA snapshot and coordinator replacement will begin on April 10th at 07:30 UTC. Probably not a good idea try to make important transfer at this time or pitch about how the tangle network is down at that time.
---
National regualtory is finally but slowly starting to create some real laws to regulate crypto scene and them intergrated part of society. News.Bitcoin.com write about Finnish regulation thats comes into force on May 1st 2019.
More about the law here in English and Finnish.
---
I got a theory that before current time everything were better. I can boldly claim this because your and everybody's else average attension span won't be probably long enough for them to read this sentence to the end. But no matter, I'll just link this very interesting writing from Zerohedge how things have rapidly changed in the range of one generation lifetime.
---
The Chrome based Brave browser has finally released the ads feature which rewards user with BAT token if they choose to watch them. These tokens can then be used directly to reward content creators for their efforts.
---
The Crypto based solutions creep in to the everyday life of a average Helen and Joe Doe. Coindesk writes about yet another third party solution to integrate crypto to a real life usage.
---
So blame your self for the EU article 1 and 11 for passing in the EU parliament voting on March 26th 2019.
rt.com speculating in writing from March what this means to EU internet users.
---
The Brave support doesn't seem to be hurrying with these minor players. Maybe they answer next month again... Meanwhile keep contributing aka gifting and spreading the love some where else.
---
Almost voting day so time to return google trends with Finnish search terms this time. According to the trends Finns party would win the elections, National Coalition would be second and close third would be the Social Democratic Party. Just remember that this is total speculation on my part but interresting to see tomorrow evening how the trends correlate with the final results.
---
2019 Finnish parliamentary elections are getting closer. According to YLE the Social Democratic Party of Finland would be the election winner even after the error tolerance subtraction.
Google trends comparison though gives another results by using English party names and looking the search activity for the last 90 days.
---
Wikileaks founder Julian Assange has been arrested in London today April 11th 2019.
---
All tough I would still be causious with the rewards because according to them "I got flagged due to suspicious activities detected by their automated system", meaning that the site is still on hold for a manual account review. You can read earlier stuff related to this issue here.
---
I have read so many times how IOTA isn't a decentralized network as long the coordinator is online, making sure that the growing tangle network doesn't get hijacked by malicious attacker with sheer transaction volume.

Well you know what, there has always been roadmap to remove the coordinator as long as the project has been existed.
April 10th 2019 coordinator will be changed for a open source counterpart which is just another step closer for total removal of the all controlling coordinator.

How could you find any better way of spending your time right now than reding the more detailed information posted originally by Jakub Cech on the blog.iota.org.
---
Rick Beato talks about the insane situtation of the current copyright issues happening on the popular music and video services like youtube. Go, watch create your own opinion and support people who are bringin this issue to the light for the masses. Same time try to find decentralized alternatives like Bittorrent Live, because big companies like Google will be blocking everything for the slightest copyright issue because they want keep good relationship with the big enterntainment companies.
---
IOTA now joins the European comission related Data sovereignty project, according to the Cryptoriefing article. it's as small wonder how much the IOTA team gets done on the background. I have lost the track of how many projects the IOTA is related now days.
---
More EU related blockchain news which just proves that cryptoes are there to stay in a form or another. This time news comes from Coindesk.com. Notable members are Barclays , L'Oreal and of course IOTA.
---
While US seems to battling what can be called a inner battle for it future. While Europe is turning its gaze to the far east and the plans of the China's Belt and Road Iniative started at 2014 to unite the Eurasian continent. Read the in depth column from the Zerohedge webpage.
---
That Google has done hatching down good and not that good service along the years.
Interesting listin can be found here. Freshes hatchet happened to the Inbox service,
which served as a playground for new gmail features.
---
Because router decided to do a deadlock while I was on a holiday trip.
Nothing much to do remotetly when networking wasn't working.
---
Why not go and see this appartment in service intence are of Tampere?
Public showing March 28th at 16:15 - 17:00
---
Pear with me this is couple of days old news but worthwile to post no matter what.
The payments and banking services provider Zeux has added support for IOTA to their app.
Read more about this news in the Iota blog.
---
update 2019-03-25
While the support gives me the femine silent treatmen you can go and download the Brave browser from the gift link here.
---
Nvidia is still trying hard to make all photographic devices obsolete. Their newest invention according to the DPReview article is A.I. generating photographic images from a simple reference doodlings.
---
Things you should try today
Have you tried the truly more secure browser that doesn't track you and has tons of customizability.
Well you're lucky today because Vivaldi just happens to give all that.
---
Nice story from the gas ridden camera world. In the end it depends what kind of camera fits your needs and personal preferences.
---
According to the news on the cryptobriefing.com there's claims that IBM new inter-bank blockchain solution will be using Stellar project as a bridge between clients. Well I haven't seen any prove yet so let's see and wait.
---
No answer from the "support" to my problem, so this means no guarantee what happens to your gift tips if anything... or am I too positive and naive to think there was any to beging with reading these rambles?
Because of the GDRP no statistics are kept on the disk.
update 2019-03-15
72h later and still no answer, seems like they have undermanned support.
update 2019-03-17
120h later and still no answer, support seems to be giving me the well known silent treatment.
How is this helping to solidify the trust to the Brave project?
update 2019-03-18
148h later... makes me feel the support is scam or a legend. How could they organize their supoprt better so users would not have to wait answers, well about a week?
update 2019-03-20
Support paste of doing things doesn't really seem to be the most fastest... still nothing
How does these kind of delays make project appear more professional.
update 2019-03-22
Young project and it shows, for me they did not deliver the experience they promised. Being totally silence doesn't really give a professional image and how could it?
---
Brave publisher account still under review so no idea what happens if you do a gift tip.
Contacted the publisher support yeasterday but I don't think they are very keen to hurry
or give support for minor publishers like me.
Also depending the reason behind this the claim of "Brave respects your privacy"
starts being a shaky claim in my books.
---
Mastercard is now a crypto scene player with a Groestlcoin debit card cooperation. I don't know but if somebody still thinks that cryptoes won't be a thing in the future payment scene in form or another, they should really think again don't you think?
---
I got tired to the yellow foam in my ears while protecting my hearing on the rare concert events.
And tough that there gotta be some decent solution for hearing protection in the form of a earplugs.
Light ducking around revealed that you don't have to spend that much money for filtered plugs.

Stumbled across EAR UltraTech which delivered good result according one Finnish review,
so no comprehensive comparison or forum diving this time. Also these plugs were available at local store.

While at the store my eyes also found basicly the same design featuring ClearEAR plugs and because the price was 3€
I tought what a good opportynity to do a quick comparison between the earplugs and is there any real differences.
So for 12€ you get 3M EAR UltraTech UT-01-003 "musical" earplugs and for 3€ you can get 3M ClearEAR 20 earplugs.




Specs wise things fall like this, according to the packaging.

UltraTech: SNR=21dB H=21dB M=18dB L=16dB

| Frequency (Hz) | 63 | 125 | 250 | 500 | 1000 | 2000 | 4000 | 8000 |
| --- | --- | --- | --- | --- | --- | --- | --- | --- |
| Mf (dB) | 14.3 | 15.3 | 18.1 | 20.8 | 21.8 | 26.3 | 21.5 | 27.0 |
| sf (dB) | 3.3 | 2.9 | 3.6 | 4.3 | 3.5 | 3.0 | 3.2 | 4.7 |
| Mf - sf (dB) | 11.0 | 12.3 | 14.5 | 16.4 | 18.3 | 23.3 | 18.3 | 22.3 |
ClearEAR 20: SNR=20dB H=23dB M=17dB L=13dB

| Frequency (Hz) | 63 | 125 | 250 | 500 | 1000 | 2000 | 4000 | 8000 |
| --- | --- | --- | --- | --- | --- | --- | --- | --- |
| Mf (dB) | 8.8 | 11.7 | 14.4 | 18.0 | 20.9 | 26.4 | 31.3 | 36.4 |
| sf (dB) | 3.9 | 3.9 | 2.9 | 4.2 | 3.4 | 3.9 | 5.8 | 5.0 |
| APVf | 4.9 | 7.8 | 11.5 | 13.8 | 17.5 | 22.5 | 25.5 | 31.4 |
Legend
Mf = Mean attentuation value
sf = Standard deviation
APVf = Assumed Protection Value
APVf (dB) = Mf - sf (dB)
Conclusion
Well for my pessimist expectations the price isn't there just for to screw out of the people.
As the packaging upper right icons reveal the ClearEAR muffle the low sound much more
and the overall protection is on the heavy side, making the experience a bit too muddy.
BUT if you're in a nightmarish loud bass saturated bar environment
these would probably provide a nice protection for your all ready alcohol muffled hearing.

What comes to the ClearTech "musical" earplugs, they deliver much more clearer result
Also the longer shaft provides a nice help for inserting and removing these from the ear canal.
But these are cleary my favorites out of these two and I eagerly wait how do they perform in a
real life concert situation, do they provide enough protection and clarity in a such envinronment?
---
According to the bitcoinexchangeguide.com IOTA will hold a life demonstration at the UK parliament March 12th, which is tomorrow. This just shows how much effort the project is giving for the Iota to become the global standard for the industry. This is exactly the kind of work that's needed for the dream to became a reality in the near future.
---
Tried to login to the Brave publisher site today and was greeted with this vague message.
I don't know what's behind the message but meanwhile any BAT gifting should probably be withheld
until they reveal more detailed information.

Kind of this is cool to think what kind of conspiracy theory or political agenda they have going on behind the curtains.
Meanwhile I'll wait my frozen contribution millions
Oh and don't forget the rss-feed.
update: 2019-03-11
Situtation remains the same just like the Trumps mission for the borderwall
---
Cryptopotato.com tells that Enji Coin has confirmed partnership with the mobile phone giant Samsung.
Every Enji coin owner was surpriced that their coin gained about +75% in response to the news.
---
I'm just gonna cram all the news I found interesting in this one big flood of information.
If you're anti US country it has been trend to jump the crypto wagon sooner than later.
Lates rumors about the new country backed crypto gang members includes Iran and Argentina

Another country planning on raising the middle finger to Washington leaders is the Italy, which is planning to join the next big international trading venture built by the China.

The Golden anti-Fiat show Keiser Report bonders if the Russia and China are going to bring back the gold standard?

Seems like Samsung forgot to include the market leader in it new crypto wallet solution, according to the Newsbtc.com. Early usage rumors tells that the default supported crypto would be Ethereum instead of the Bitcoin in the Samsung Galaxy S10 and that Bitcoin would not initially supported at all. This just sound a bit weird decission if true and we just have to wait for the official release date 8th of March to see.

The Cryptoslate.com tells the news that our favorite cross platform game engine Unity is going to be supported by upcoming Enjin SDK. As many other crypto project this also if successful, will be a huge new market in the gaming industries since becoming of the mobile gaming explosion.

French police having a shitty day with the yellow vests movement in the land of the frenchmen.


---
Because silence is gold. Here's a article for you if you feel like constant interrupts by the social media and advertisement industry has to come to a end. Well I got one simple tip for you, silence ALL notifications on your phone, no blinking led no sounds no nothing. Guarantee you feel more calm after a fifteen minutes.
---
Most of you probably have already forgot the IOTA project, because they don't really seem to care about the token evaluation
or the hype around the cryptoes. But behind the scenes there's yet another production ready solution for car industries this time, according to the article released by the accessec.com. Personally I really like the attitude of the whole IOTA team, they are there to make the history of the future.
---
Crypto related website Coindesk wrote article about Samsungs upcoming Galaxy S10 smartphone's crypto capabilities. Personally I thinks this is just another step towards mainstream crypto acceptance. Now I just have to look to my crystalball and see which crypto will be the king of the hill in the future?
---
Chrome derivative Brave browser all ready? It allows you to auto spend imaginery crypto token Basic Attention Token. Just like fiat currency but no politics or traditional banks included, sounds good right?
---
Military centric online store got idea to sell Finnish craft beers online, but authorities said no without any particular reason.
Read the whole story here in Finnish, in summary for all the English users the story goes like this. Finnish people can order alcohol from any EU country if they take care of the delivery them self, but can't order alcohol from Finnish webstore because... no logical reason, if it's not spefically allowed it must be forbidden by default in Finland.
---
While browsing the unfamiliar parts of the web neighbourhoods I found this Offliberty online downloader site. That makes possible to download some online content to be consumed and used later without internet connection.
---
From a Soundcloud user Ehrling - Sthlm Sunset


---
TheBlockCrypto.com tells a news that some has spotted crypto support in the upcoming foldable
Samsung Galaxy S10 flagship smartphone. There's a screenshot of the alledged new phone with a claimed Samsung Blockchain Keystore feature. Only problem to me is that this could be just some alpha stage 'Let's try this' developer feature that will be dropped by the release or photoshopped fake news. Even planned leakage from the Samsung to test out the general approval and interest against this kind of feature can't calculated out of the picture.
---
Seems like the original IOTA fake seed generator culprit has been catched by the Europol, according to the news by Iota-news.
---
How to take liberty seriously and with agains the powers which ain't beneficial for the majority of common people.
French Yellow Vest movement continues to stir the political atomosphere in France and for a good reason. Far too long has the forces of manipulated market made average people choices fewer and fewer. RT.com writes about the situation in France which continues the 10th week in a row.
---
According to the spreadprivacy.com the alternative web search service Duckduckgo.com is switching to Apple's MapKit JS for it maps-search results. I just hope this undermines Google's dominance omn the search service markets, monopoly rarely is a good thing for consumers.
---
News from aljazeera.com tells that parliament has rejected the Theresa May's Brexit plan.
Reminds me of the Karate Kid movie "Wax on, Wax off".
---
For a personal project and not just some news link I chose to be worthy of your time.
The Blog writing tells a story of my small painting project related to my amplifiers knobs.
So this story could be called a knob job. Maybe we should have a holiday by that name.
I just stop here before this gets out of hands and gets too dirty to release.
---
Maybe not be for long if the forces of convetional order get to decide. For Finnish users EFFI Ry. clarifies the current situation happening in the hearth of the EU directive generating bureaucracy machine.

Some madman has been lobbying some where without a speck of common sense and someone equally retarded in the group of apes have tought this good enough idea to process forward.

The Story goes in short like this, if the copyright directives 11 and 13 will pass the publishers are held responsible if some one itentionally or accidentally posts some copyrighted material. In example Youtube is already filtering out or non-monetizing videos that A.I. system finds to be copyrighted for some one else. Nightmare scenario would be that individual publishing would take a huge hit, well this is nothign compared to the link-tax idea those maniacs have ready for us. Article 13th kind forbids sharing hyperlinks if it's interpreted like the copyright fanatics at media industry paylists like to do so often.

In example you would be breaking the law by posting and sharing some news article from some news site without their permission, let's say in your Whatsapp group and why stop there argue the media lawyer why not also make the Whatsapp responsible for your linkings.

As you probably already have, as do I a very grimm painting of the internet of the future if this carries on. So why not for a change we do something else than look those cat videos and Instagram photos and try to keep the internet free4all?
---
Just when the year has changed and Olympus imaging division released, like nothing in the year 2018.
They kickstart the new year with their pro line M-news. I just got a newsletter including teaser
for their upcoming camera release. I secretly wish that Sony has their sensor technology implanted
here because anything else is a let down in my personal opinion.
---
I have to refer my old post about the increasing size of the smart phones across the manufacturers.
I just had to return to this topic because recently was forced to change to a bigger phone,
no matter of my efforts to try and find a decent specs 4.7" Android smartphone.
So what's the situtation now in the fresh year of 2019 on the popular Finnish electronic sellers.

Verkkokauppa.com has like nothing in the 4.7-5.1" sized phones.

Samsung Galaxy S7, over priced, physical home button and old Android 6.0
Samsung Galaxy J7, Too big at 5.2" , physical home button plus all the Samsung's bloatware.
Nokia 3.1, Current market thinks that 5.2" is supposed to be small?
Samsung Galaxy J3, First that fits the size category at 5.0" but has a physical home
LG K9, First that could be considered if LG had a better reputation of building Android phones.
Catepillar S31 and S41, Pricey and physical home button, probably because of the IP68-protection.
Ulefone S7, well first time me hearing about this manufacturer, otherwise could be considered.
Sony Xperia XZ2 Compact, manufacturer thinks that 5.0" is compact and should be priced as premium.
Lenovo Moto C Plus, Nothing badly wrong but plastic case and no notification light? wtf...
Motorola Moto G 5th Gen, Almost but no cigar this also has and physical home button.

So at Verkkokauppa.com there was close three contenders that could barely be considered
as a "small" phones near ~5.0" upper mark. (LG K9, Ulefone S7 and Lenovo Moto C Plus)

So let's jump to another big reseller in Finland the Gigantti and see what do they have.


Nokia 1, Size is there at 4.5" but OS is a shaved version of Android Go
Catepillar S31, this was reviewed already on the earlier section
Catepillar S60, I don't know why IP68 casing should be this pricey?
Doro 8020X, physical home and experience that Doro is aimed for the eldery
So my personal opinion and conclusion?
No, the market still doesn't have anything usable in the Android 4.7" sized scene.
Some Apple fanboy will scream his lungs out at this stage and tell you to by a iPhone XS,
But who has that kind of money to spend locked down non-customizable phone+OS combo?

My old Lenovo S660 relic served me well without the HD-gaming thirls until I dropped it too many times.
Of course you always could go some super small kickstarter phone
like the Jelly project, whish is probably too small to be usable.

ps: I don't do spell checking...
---
Traditional new years speak from the Finnish president, can be found spoken in finnish and swedish from Yle Areena.
---
Frontpage
---
Topic Archive 2018
---
Topic Archive 2017
---
Topic Archive 2016
---